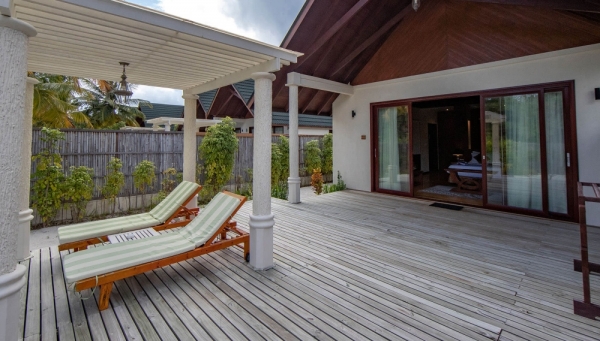 GARDEN VILLA
110 square meters with a large private sundeck, complete with your own private tropical garden with a semi-open bathroom complimented with a bathtub to offer the comfort and luxury for individuals and families. The interconnecting rooms allow you to stay close when travelling with your family or friends.
VILLA SPECIFICATION
| | |
| --- | --- |
| Villa | Direct Garden |
| Garden | |
| 1 Room | |
| Interconnecting | 110 sq ft. |
---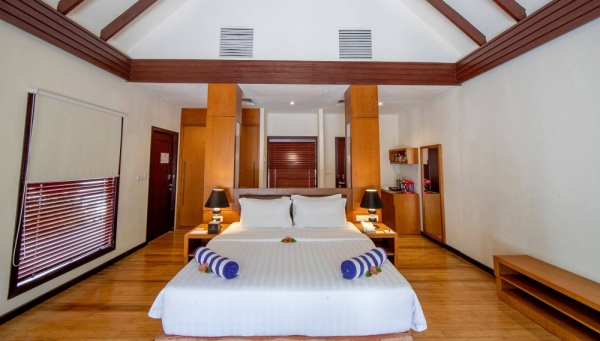 BEACH VILLA
125 square meters of spacious bedroom, semi open-air bathroom with bathtub and large beach front wooden sundeck and a private dining area. The photos of the Beach Villas and views are indicative only and may vary depending on room assigned.
VILLA SPECIFICATION
| | |
| --- | --- |
| Villa | Beach and Lagoon |
| Beach | |
| 1 Room | |
| Single Villa | 125 sq ft. |
---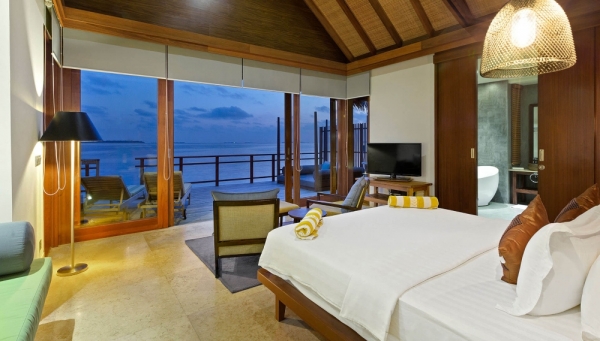 WATER VILLA
The spacious 98 square meters villas have been designed to give Furaveri Island Resort & Spa guests pure privacy through an extended decked veranda with sun loungers and an outdoor dining area. The photos of the water villas and views are indicative only and may vary depending on room assigned.
VILLA SPECIFICATION
| | |
| --- | --- |
| Villa | Balcony view |
| Beach | |
| 1 Room | Without a Private Pool |
| Single Villa | 98 sq ft. |
---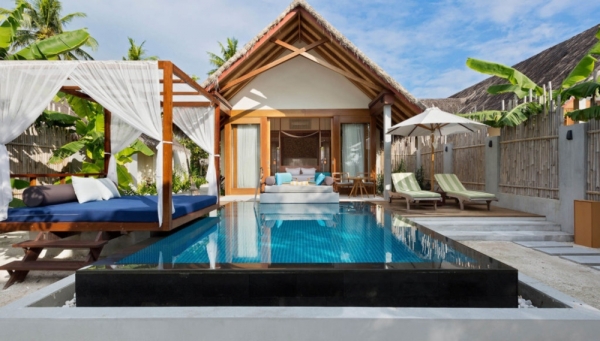 BEACH POOL VILLA
155 square meters for your perfect private accommodation with a large beach front garden and wooden sundeck, complimented with a cushioned day bed and sun loungers. The private 6-metre pool is the heart of your villa experience.
VILLA SPECIFICATION
| | |
| --- | --- |
| Villa | Beach view |
| Beach | |
| 1 Room | With A Private Pool |
| Single Villa | 155 sq ft. |
---
DHONI POOL VILLA
200 square meters will give you an experience of pure serenity with creative design spaces and an en-suite bathroom and a large private pool. The photos of the dhoni pool villas and views are indicative only and may vary depending on room assigned.
VILLA SPECIFICATION
| | |
| --- | --- |
| Villa | Balcony view |
| Beach | |
| 1 Room | |
| Single Villa | 200 sq ft. |
---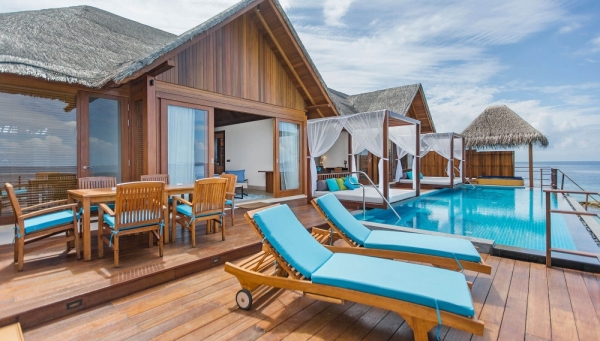 TWO BEDROOM WATER SUITE WITH POOL
212 square meters of luxury with a glass floor in the sitting room. Two indoor outdoor en suite bathrooms separate guests cloakroom and butlers pantry. The ultimate in Family accommodation.
VILLA SPECIFICATION
| | |
| --- | --- |
| Villa | Balcony view |
| Over the water | |
| 1 Room | |
| Single Villa | 212 sq ft. |
---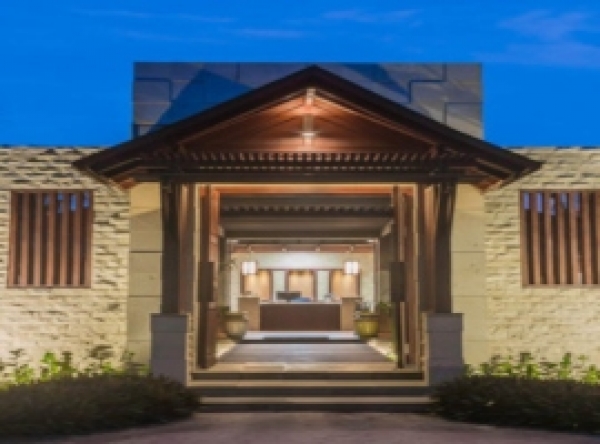 SPA & WELLNESS
Furaveri Island Resort & Spa offers an air-conditioned Fitness Centre and the Furaveri Spa, a tropical escape surrounded by flowery fragrances and flowing waters. Furaveri Island Resort & Spa professional therapists provide holistic spa treatments with high touch and low-tech approach to calm the mind. They are here to serve, to inspire and to share their passion for healing, rejuvenation and well-being.
IN-VILLA DINING
In-Villa dining offers an all-day A la carte menu in the privacy of your own villa at a time which suits you best. Enjoy a selected variety of European and Asian cuisine, including light snacks, tasteful main courses and tempting sweet desserts.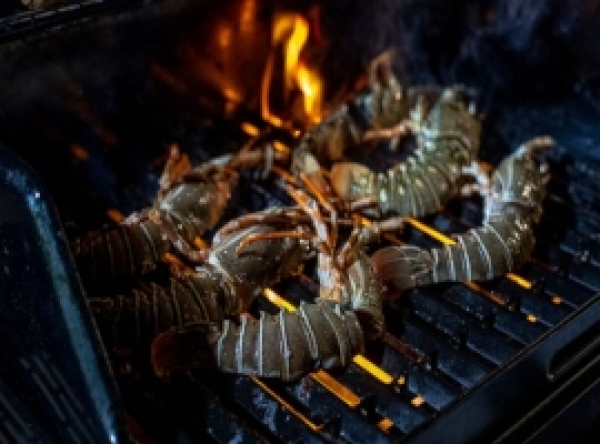 DESTINATION DINING
A special menue will be served in a remote location of guests choice, whether romantic candle light dinner on the beach, a tasty seafood experience with freshly caught Maldivian lobster or a 5-course menu in the lush greenery of Furaveri island.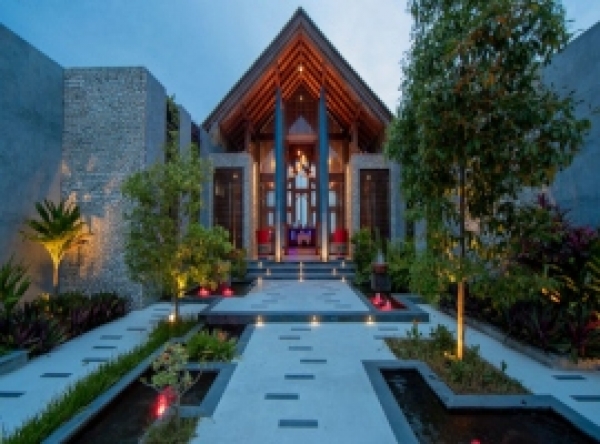 SEA BREEZE DINNER
Enjoy a memorable dining experience close capturing the freshest seafood with well-rounded exotic flavors. The delicious 4-course menu features sumptuous tiger shrimps, tasty calamari and locally caught lobster. Be enticed with intense ocean aromas and watch a tropical day in paradise come to an end.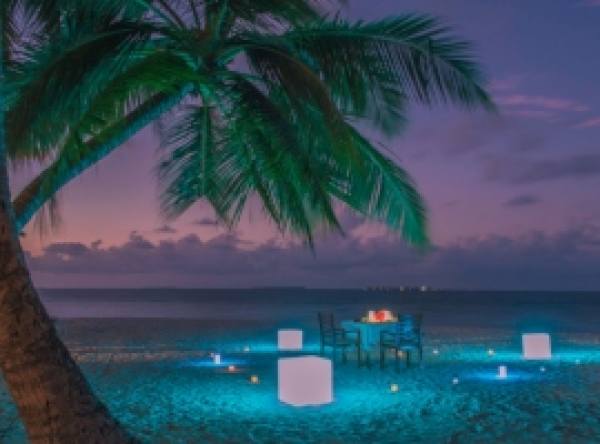 ROMANTIC DINNER
Dine beneath the sparkling stars with the sound of the Indian Ocean waves gently lapping on to the beach. Your private waiter will serve a special 6-course menu including a selection of seafood, crispy salad, homemade soup, two tasty options for the main course and a tempting chocolate dessert for the ultimate Maldivian experience.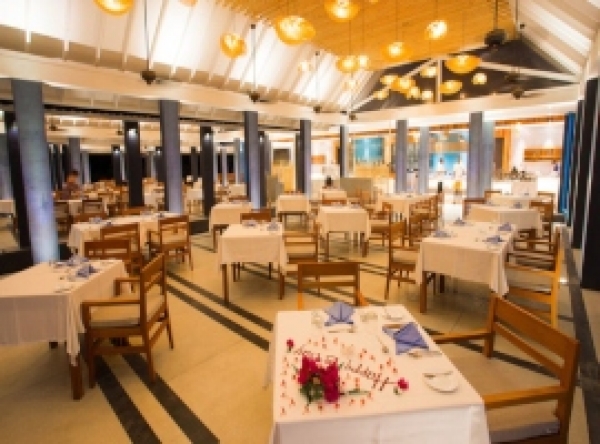 JAAFAEIY - INTERNATIONAL BUFFET
Located at the northern shore of the island, Jaafaeiy Restaurant serves exclusive cuisine for breakfast, lunch and dinner from around the world with various choices of international and continental dishes. The buffet includes live cooking stations where food is prepared to individual desires. Each night has its own theme, Maldivian Night, Thai Night, Pasta Night, Mediterranean Night, Mongolian Night, International Night and BBQ Night.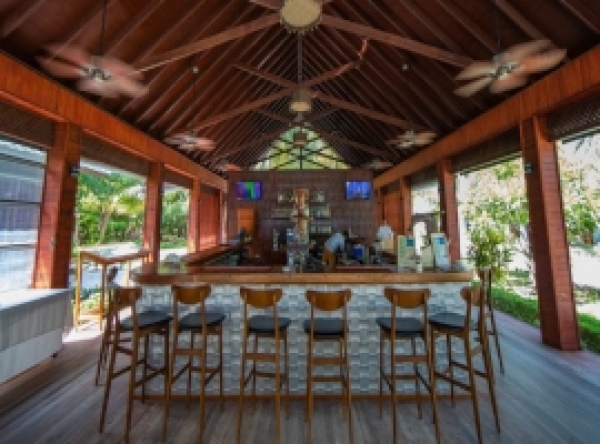 UDHARES BAR - A LA CARTE
Relax by the poolside and enjoy the view of the Indian Ocean while sipping on a tropical drink. The Udhares Bar offers refreshments, including fresh coconut and fruit juices, soft drinks and afternoon tea/coffee and a wide selection of spirits along with exciting tropical cocktails and international beers as well as an à la carte menu that will entice you to lounge in a cosy setting enjoying the evening entertainment until the early hours.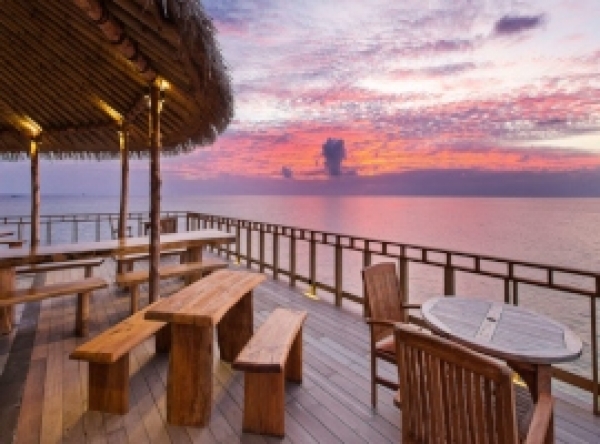 AMIGOS @ FARUMATHI
Amigos @ Farumathi: Located on the edge of the reef at the end of the water villa jetty. Amigos @ Farumathi offers uninterrupted views of the sunset. Serving casual Fresh Mexican Food as well as a variety of Margarita's and other amazing home created cocktails. It is the perfect place to go for a lingering lunch or for an end of the day cocktail and dinner while watching the sunset.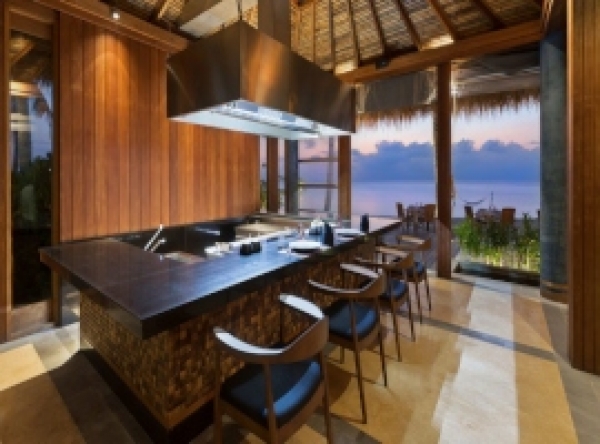 RAIYVILA - A TASTE OF ASIA
Raiyvilla Located on the western tip of the Island on the beach is perfectly located for the Sunset, Raiyvilla Furaveri's Signature Ala Carte restaurant offers mouth watering Asian Fusion dishes including traditional Sushi and Sashimi and a Tepanyaki Counter, amonst amazing East meets West dishes prepared by our own Asian Chefs, Specially crafted cocktails are recommended to start an amazing evening, Raiyvila is the perfect place for afternoon drinks and an unforgettable dinning experience.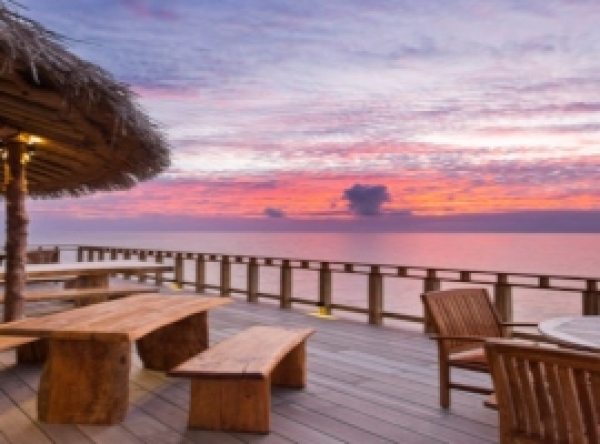 DINING
Furaveri Island Resort & Spa offers a variety of dining options from International Buffet to an Ala Carte Fusion Asian Restaurant and Casual Mexican dining over the reef edge. Enjoy your dinner with evening entertainment including Soft music, Live Band, Maldivian Night, DJ, Aqua Night and many more at Furaveri Island Resort & Spa. Furaveri Island Resort & Spa also offer four types of meal plans to meet your individual desires.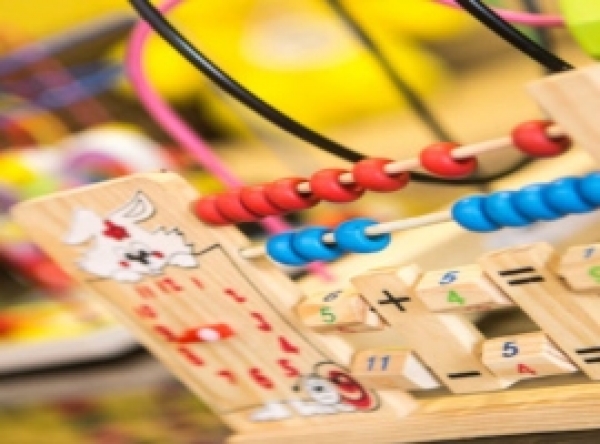 KIDS CLUB
While parents are enjoying some time for themselves their dedicated, trained team will provide fun-filled entertainment with coconut painting, palm tree origami or traditional Maldivian songs. Furaveri Island Resort & Spa Kids Club is an extensive free facility especially designed for their younger guests aged four to eleven. The venue is equipped with carefully selected games and toys and features a large sand-filled outdoor playground with a playhouse, huge slide, wings and spring riders.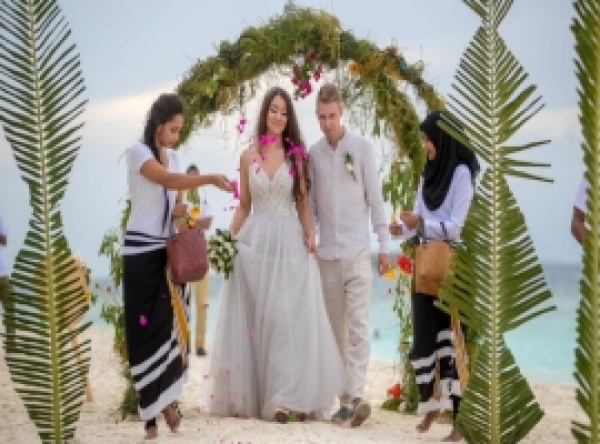 HONEYMOON BLISS WEDDING
Stay with Furaveri Island Resort & Spa in paradise and enjoy a relaxing couple massage in their magnificent Spa. Brides will be spoilt at the Spa all morning until the wedding ceremony. After a romantic candle light dinner, a moonlight dhoni cruise with champagne and fruits will be the highlight of your special day.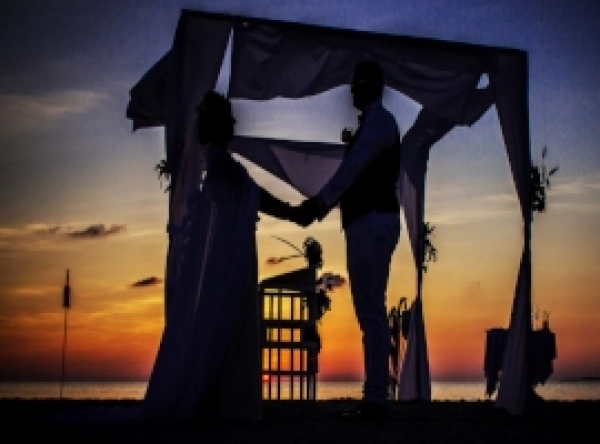 MALDIVIAN SUNSET WEDDING
Feel pampered with Furaveri Island Resort & Spa Maldivian signature spa treatment for ultimate relaxation before your wedding ceremony, followed by exchanging your vows on one of the magnificent beaches on Furaveri in a stunning setting. A traditional decorated golf cart will bring you to the wedding area which is decorated with handmade arches from coconut fronds. The traditional Maldivian master of ceremonies will announce you as husband and wife. A professional photo shooting tour on the island can also be arranged on additional costs.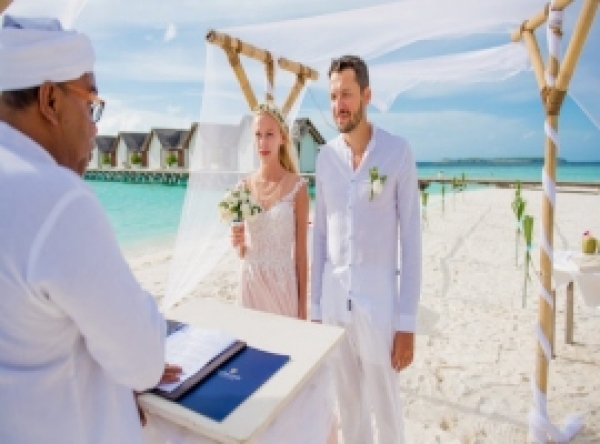 ROMANTIC INFINITY WEDDING
Start your wedding day with pure relaxation in their Spa whilst enjoying a 1 hour couple massage. Your exclusive and private wedding at Furaveri Island – sparkling sandy beaches, tropical palms and the crystal clear turquoise waters of the Indian Ocean around you whilst enjoying the private candlelight dinner beneath the shining stars.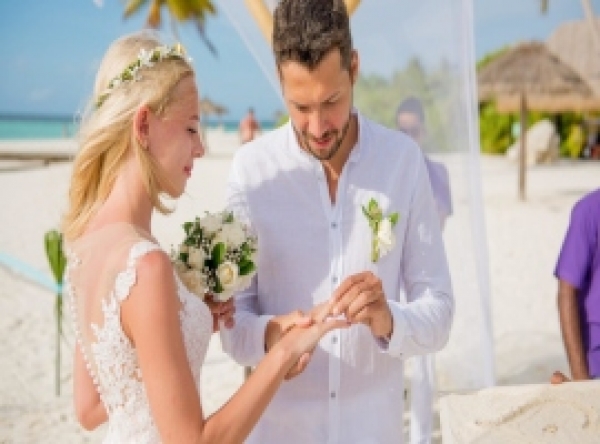 EXCHANGES OF VOWS
Embark your new life together! Exchange your vows at our luxurious resort, situated in one of the most spectacular Maldives Atolls with beaches you may only have dreamed of. Maldivian sunsets are sensational and as the sun touches the horizon below the Indian Ocean, you can enjoy an optional romantic candlelight dinner on additional costs at Furaveri Island.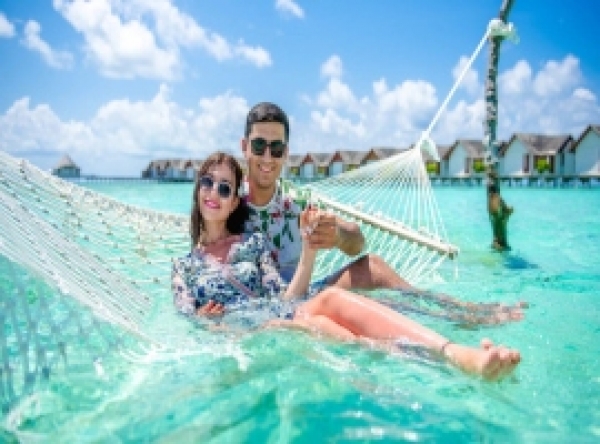 HONEYMOONS
A honeymoon in one of Furaveri Island Resort & Spa luxury villas offers you all the privacy you would expect from a holiday in the Maldives and all the magic of a secluded tropical island in the shade of the coconut palms, golden beaches which are lapped by the tropical waters of the Indian Ocean.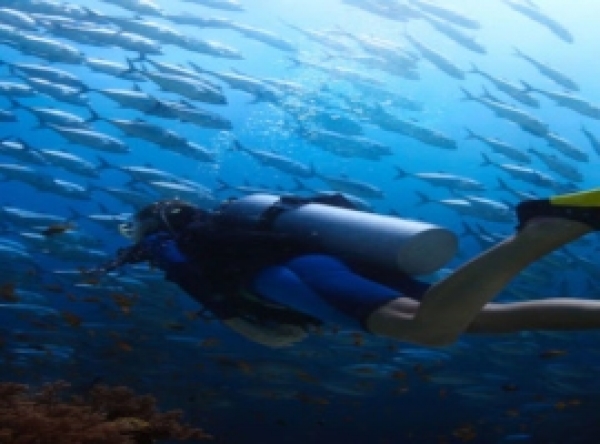 DIVING
Furaveri Island is blessed by having an incredible house reef with turtles, sharks, rays, barracuda, napoleons, tuna and trevally as well as colorful corals. Experience the unforgettable, colorful and abundant marine life of some of the best dive sites in the world. Their experienced PADI 5 Star Dive team provide a friendly and professional service to their guests with the full range of PADI programs.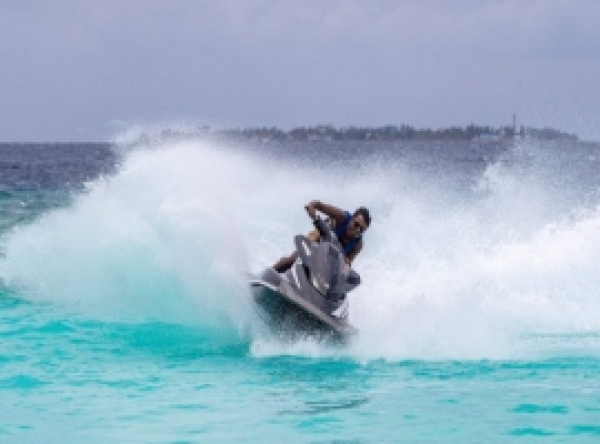 JET SKI
Enjoy an adventures jet ski ride with exciting turns and splashing waters! Whether you are a newcomer or an experienced rider, the jet ski is the perfect choice for the ultimate thrill.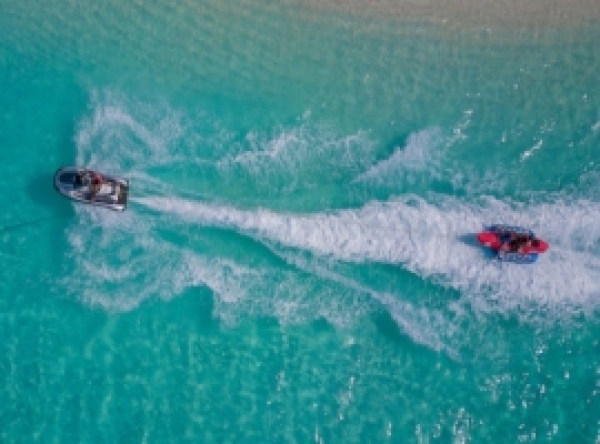 BANANA BOAT
A cheerful water sports experience to be enjoyed with the family or friends! Have a seat on Furaveri Island Resort & Spa banana boat and get ready for a 20 minutes swift ride on the outer reef of Furaveri Island.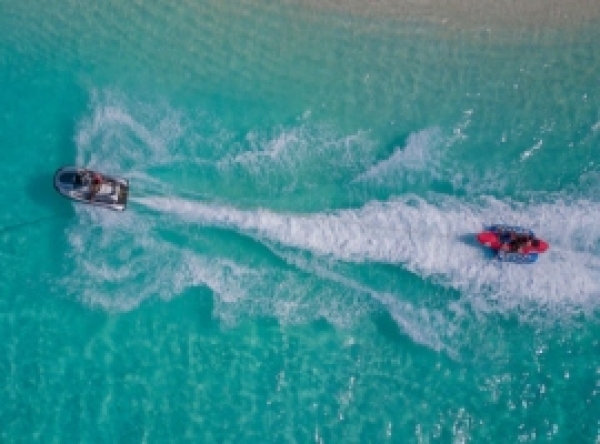 FUN TUBE
Jump aboard the fun tube and feel the splashing waters below! The experienced water sports team will pull you 15 minutes across the ocean for the absolute adrenaline kick.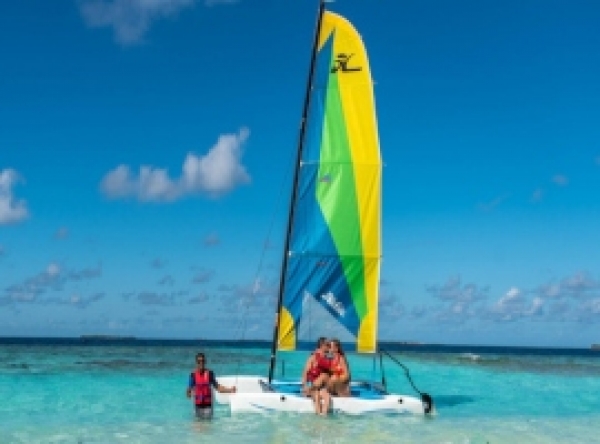 CATAMARAN SAILING
Whether it is a snorkeling excursion to discover a nearby coral garden with its vibrant marine life or a romantic catamaran cruise while the sun slowly sets and turns the surface of the Indian Ocean into golden shades.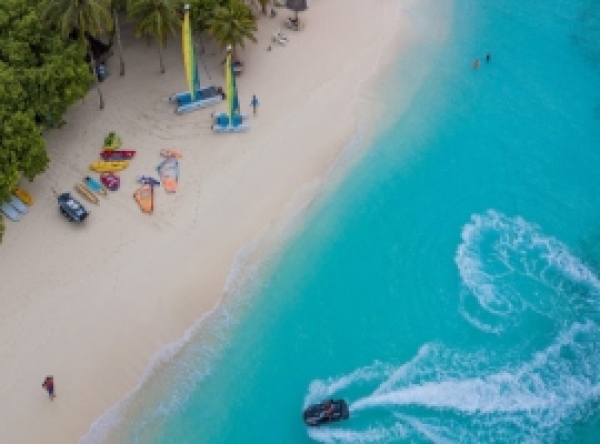 WATER SPORTS
The professional Fun Water Sports Team offers a wide array of motorized and non-motorized activities to experience the refreshing waters of Furaveri Island. The Furaveri Island Resort & Spa also offer Water Sports courses including: * Stand-Up Paddle Board * Catamaran Sailing * Windsurfing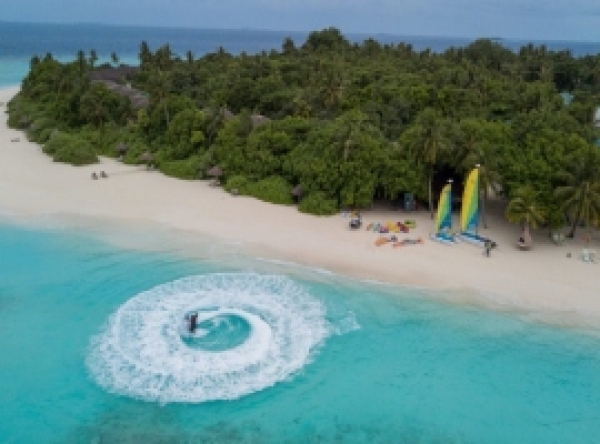 EXCURSIONS
Discover the natural nature, The culture and traditions of the Maldives. Choose from a wide range of exciting excursions such as a visit to the local Maldivian island Meedhoo. Meet the school children and have morning tea with a local family. Or enjoy a romantic sunset dolphin cruise as well as a variety of exciting fishing options.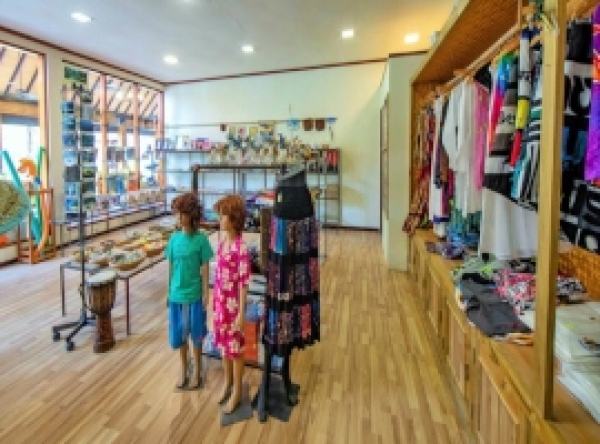 BOUTIQUE
The Furaveri Island Resort & Spa Boutique offers a tastefully selected variety of wear for ladies, men and children such as sarings, swimwear and sandals. Choose between handcrafted gift articles, Maldivian souvenirs and accessories as well as postcards. All your daily necessities including sun cream, beach accessories and beauty care products