Anantara Dhigu Maldives Resort
ESCAPE TO AN ISLAND TO CALL YOUR OWN Discover an Indian Ocean paradise at Anantara Dhigu Maldives Resort. Celebrate together in barefoot elegance. Choose from suite days or villa nights in private tropical havens over crystal waters or tucked away on soft sands.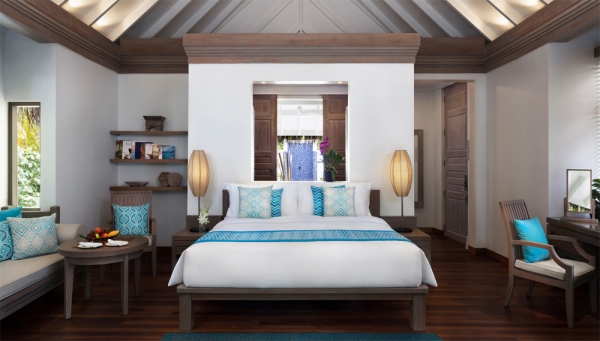 SUNRISE BEACH VILLA
A thatched roof villa awaits, fringed by lush foliage and powdery white sands. Sleep in a sumptuous king-sized bed embellished with marine hues. Unwind on your daybed on your private sun terrace or in your freestanding terrazzo tub in your open-air bathroom. Part palm fronds to reveal an empty stretch of beach and the Indian Ocean before you.
VILLA SPECIFICATION
| | |
| --- | --- |
| Villa | Ocean view |
| Beach | Sunrise |
| 1 Room | |
| | 125 sq ft. |
---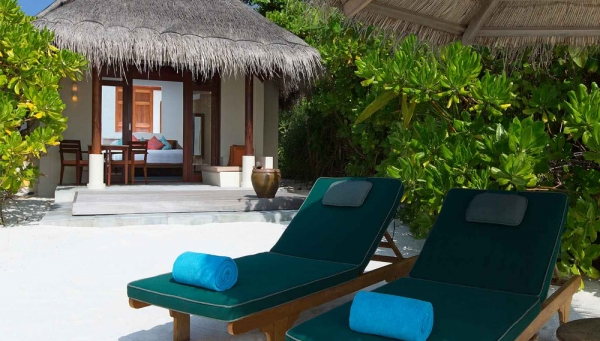 SUNSET BEACH VILLA
Cherish blissful seclusion in your own tropical sanctuary. Watch sunsets unfold across the sky. Dine under the stars on your private deck. Refresh yourself in a large terrazzo tub surrounded by lush foliage, or under the outdoor rain shower.
VILLA SPECIFICATION
| | |
| --- | --- |
| Villa | Ocean view |
| Beach | Sunrise |
| 1 Room | |
| | 125 sq ft. |
---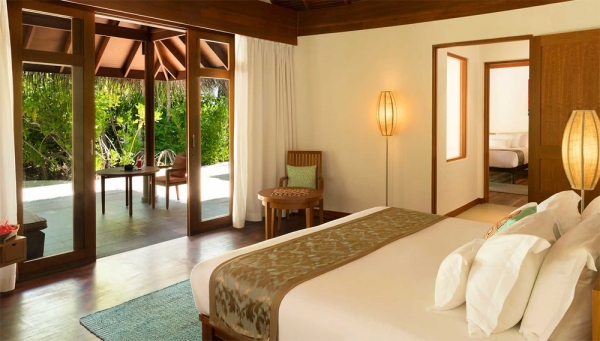 TWO BEDROOM ANANTARA POOL VILLA
Retreat to bedrooms equipped with king or twin beds – each with its own semi-outdoor ensuite bathroom. Watch as your little ones splash in the spacious terrazzo tub or the lagoon just steps from your villa
VILLA SPECIFICATION
| | |
| --- | --- |
| Villa | Beach and Lagoon |
| Beach | N/A |
| 2Bed Rooms | Without a Private Pool |
| Single Villa | 237 sq ft. |
---
SUNSET OVER WATER SUITE
Indulge in lagoon living, waking up to the ocean breeze, peering through your glass viewing panel in the bathroom floor to gaze at colourful marine life, or lowering yourself into balmy waters for up-close encounters.
VILLA SPECIFICATION
| | |
| --- | --- |
| Villa | Views of sunrise over the Indian Ocean |
| Over the water | Sunrise |
| 1 Room | |
| | 119 sq ft. |
---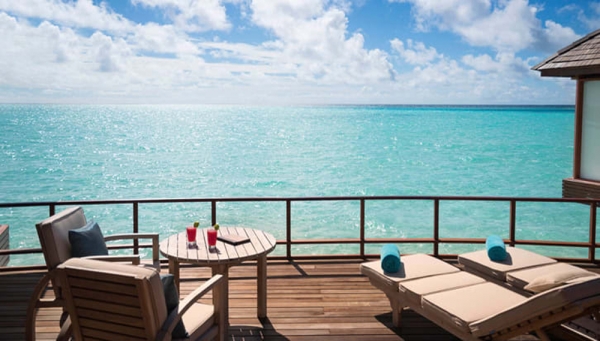 SUNSET OVER WATER SUITE
Spend lazy days oceanside, sprawled on a daybed on your private sundeck or shaded inside with floor-to-ceiling doors slid open. Take a dip in the balmy lagoon below or sink into your freestanding tub and admire the horizon beyond.
VILLA SPECIFICATION
| | |
| --- | --- |
| Villa | Views of sunset over the Indian Ocean |
| Over the water | Sunset |
| 1 Room | |
| | 119 sq ft. |
---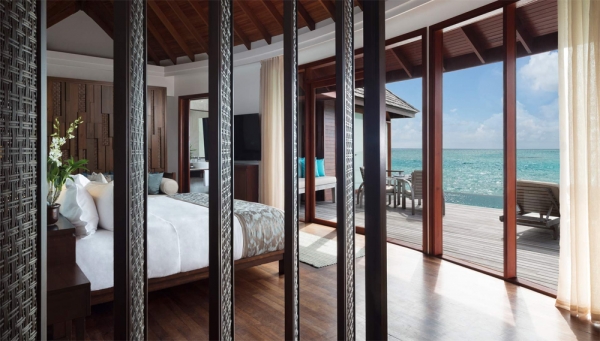 SUNSET OVER WATER POOL SUITE
Contemporary sleek lines, cool marble, smooth teak underfoot and uninterrupted views of the dazzling ocean. Swim in the natural blue lagoon beneath your suite, or laze in your infinity pool at water's edge.
VILLA SPECIFICATION
| | |
| --- | --- |
| Villa | Ocean view |
| Over the water | |
| 1 Room | With A Private Pool |
| | 129 sq ft. |
---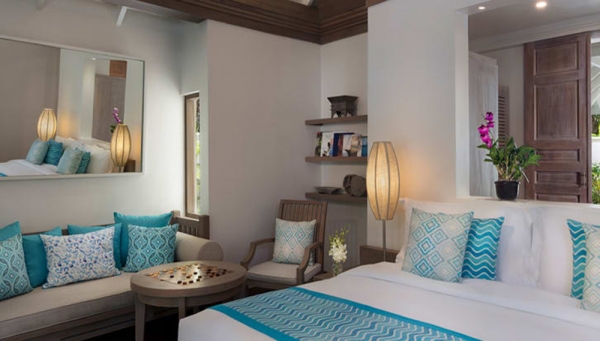 ANANTARA POOL VILLA
Ideal for guests seeking a quiet beach retreat, the Anantara Pool Villa offers sunset views, a spacious plunge pool, and a Villa Host to cater to your every need. Take a refreshing dip in your pool sunken into soft white sands, the ocean steps beyond. Soak in the sun on your daybed set over pool's edge. Catch the last rays of daylight each evening from your sun terrace complete with daybed, sun loungers and a dining area.
VILLA SPECIFICATION
| | |
| --- | --- |
| Villa | Garden View |
| Beach | |
| 1 Room | With A Private Pool |
| | 150 sq ft. |
---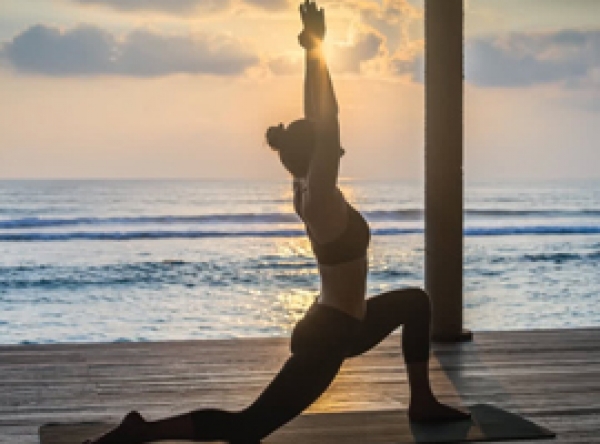 SUN SALUTATIONS
Embrace the early morning sun with Sun Salutations or Surya Namaskar. Focusing on alignment and breathing, energise your body and mind as you stretch and strengthen all of the major muscle groups. The perfect way to start your day.
AYURVEDIC THERAPIES
Find deep relaxation, as well as improved health, with an array of Ayurvedic therapies both time-tested and tailored to your needs. Indulge in oil massages that blend aromatherapy and medicinal herbs to soothe and detoxify. Firm strokes clear the energy channels of the body and balance the chakras. The steady warm pouring of oil induces a deep state of mindfulness. Enquire about our targeted treatments for weight loss, joint pain, high blood pressure and migraines.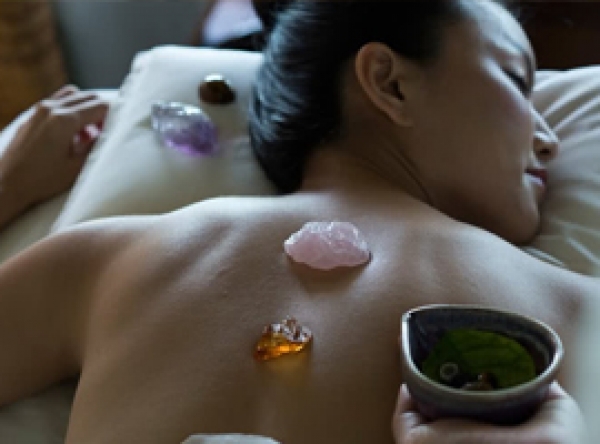 AYURVEDIC PROGRAMMES
Embrace the wisdom of a 5,000-year old science. Align body, mind and spirit. Heal with nourishing cuisine, gentle exercise, meditation and soothing spa treatments. Enjoy solo or multi-day treatments tailored to your doshas.
SIGNATURE SPA TREATMENTS
You've escaped from all the stresses of the hectic world back home. Now, make sure you leave it all behind and return refreshed, restored and relaxed in mind, body and soul. Coax your body into an elevated sense of renewal with a sequence designed to rejuvenate couples from head to toe by utilising coconut's prized remedial benefits. Floral Foot Ritual – Essence White Coconut Scrub – Shower – Essence White Coconut Wrap – Shower – Anantara Muscle Tension Release Massage – Refreshment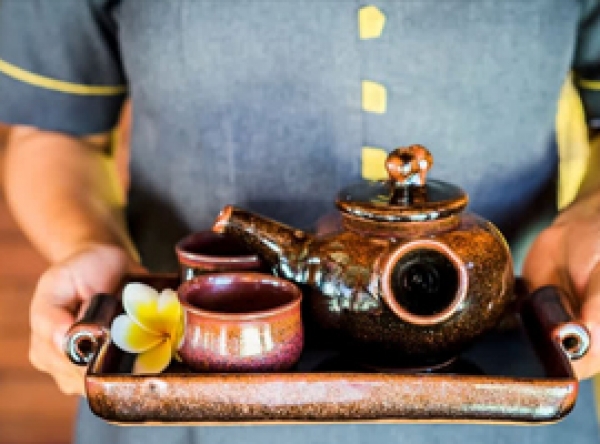 BALANCE WELLNESS BY ANANTARA
Salute the sun. Meditate before the ocean. Indulge in soothing Ayurvedic therapies tailored to your needs. At Anantara Dhigu, we invite you to be as relaxed or revved up as you please, with our Balance Wellness by Anantara programme on offer at sister island Anantara Veli.
SPICE SPOONS
A spicy tuna curry. The four flavours of tom yum goong. Both Thai and Maldivian cuisine feature fresh seafood and an abundance of coconut milk. Discover the chef in you, with step-by-step cooking classes held by our executive chef. Savour a freshly picked coconut as you dice, pound and stir. Enjoy your feast for lunch, then follow up with garnishing or table-setting classes.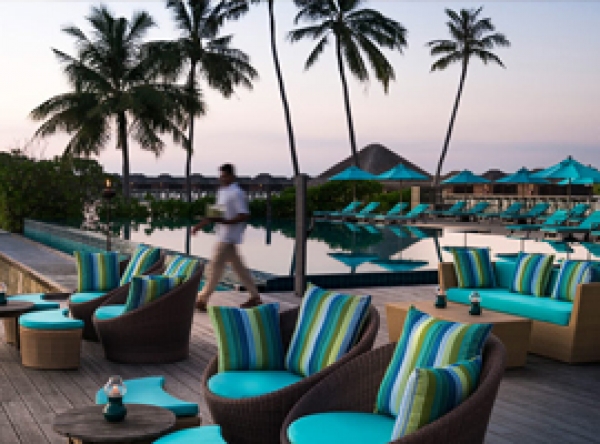 DHONI BAR
Soak up the sun's blissful rays in a casual poolside setting. Enjoy all-day refreshments of iced coffees, smoothies and mocktails – as well as an array of gourmet sandwiches, paninis and wood-fired pizzas to whet your appetite.Grab your favourite flavour as the ice-cream trolley makes its rounds. As sun sets, enjoy a glass of Champagne as you browse an extensive menu of signature cocktails as well as old-time classics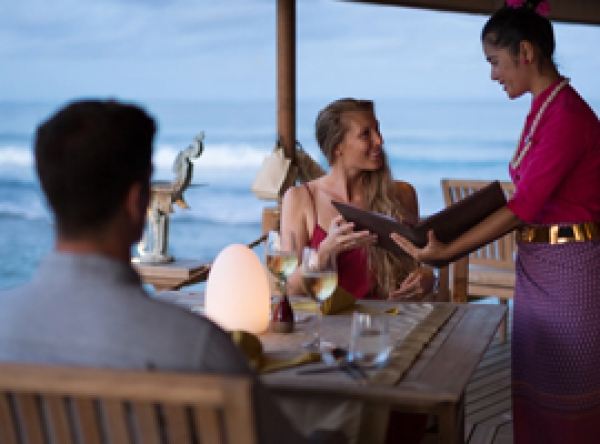 BAAN HURAA
With dishes designed to be shared as in Thailand, choose from an array of delicacies from across the kingdom – sour spicy salads from the Northeast, hot coconut curries from the South, beloved dishes from the Central Plains accompanied by fragrant jasmine rice.Cool the palate with traditional desserts such as sticky rice and mango or bananas poached in coconut milk.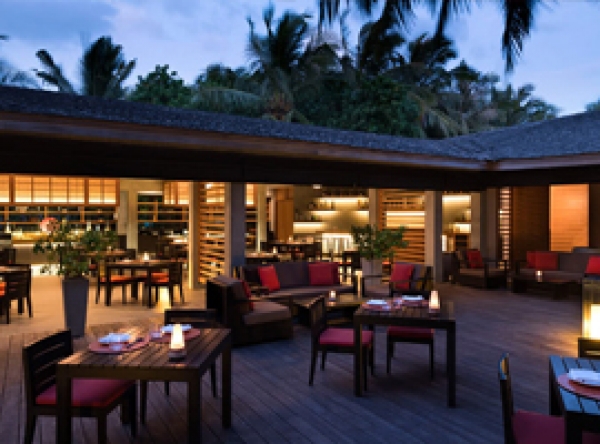 ORIGAMI
Enjoy Hokkaido scallops straight from the robata grill, or signature dishes such as thinly sliced seabass garnished with yuzu, truffle oil and salmon roe. For an entertaining evening, choose a teppanyaki menu of Wagyu beef and Alaskan king crab which is sliced, diced, sizzled and served before you.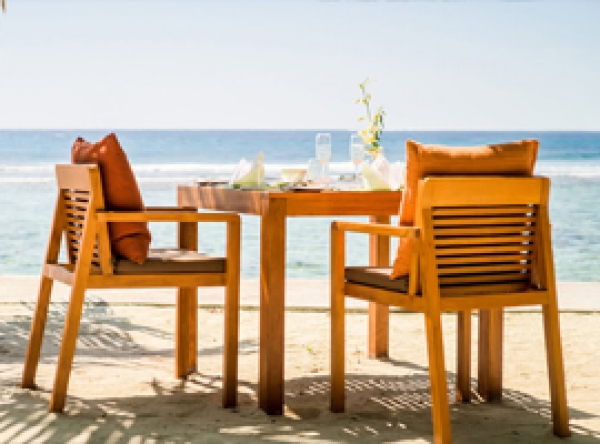 73 DEGREES
Follow the enticing aroma of freshly ground coffee and oven-hot pastries to this idyllic oceanfront setting. A lavish buffet breakfast offers exotic fruits and juices and live cooking stations from East and West.
IN-VILLA DINING
Savour dishes for every appetite in the comfort of your private villa or over water suite. Allow us to bring signature dishes from each of our restaurants right to you. A selection of zesty Thai dishes to be shared by the pool. Modern Italian or Japanese cuisine overlooking the cerulean ocean. Morning wake-me-up to midnight munchies, let us cater to your cravings. Our chefs will be happy to tailor to any specific dietary requests.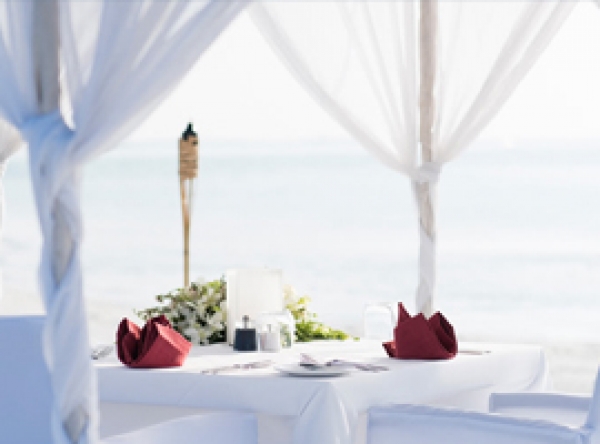 DINING BY DESIGN
Follow the torches to an intimate table setting for two underneath a canopy of stars or a private faree tent. Dig your toes into the sand, as fresh-grilled lobster is served on your dugout table by your private chef.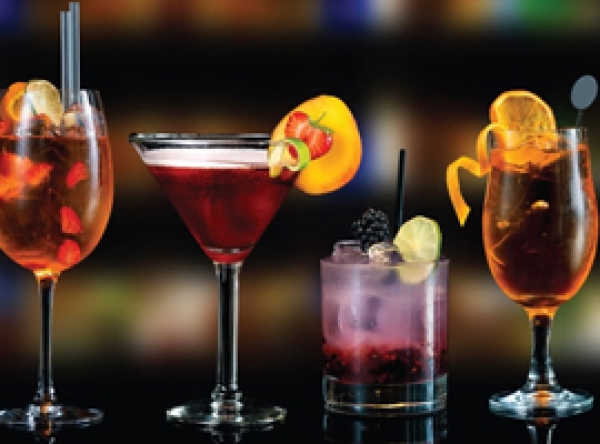 AQUA BAR
Soak up the sun, cool off in the shade, or swim up to the bar for chilled refreshment. Enjoy a light lunch, small bites throughout the afternoon and drinks all the way through twilight. Re-energise with a selection of tropical juices, fine teas and iced coffees. Find the perfect seat to watch the sunset with a cocktail in hand and live music playing.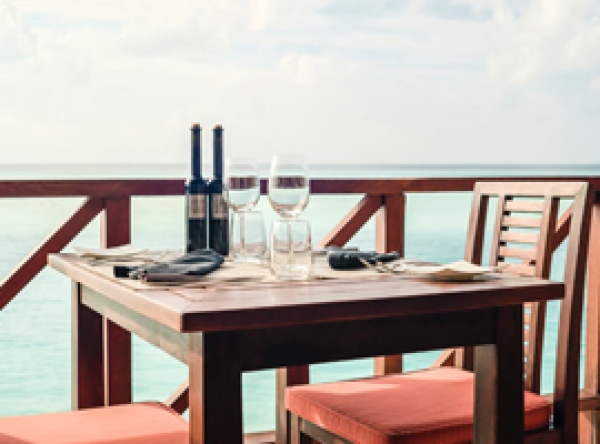 TERRAZZO
Begin your evening with a sunset selection of bruschetta and a glass of crisp wine. Sample fresh seafood cooked in traditional Italian flavours – line-caught tuna carpaccio drizzled in extra virgin olive oil, handmade lobster ravioli with a lemon butter sauce.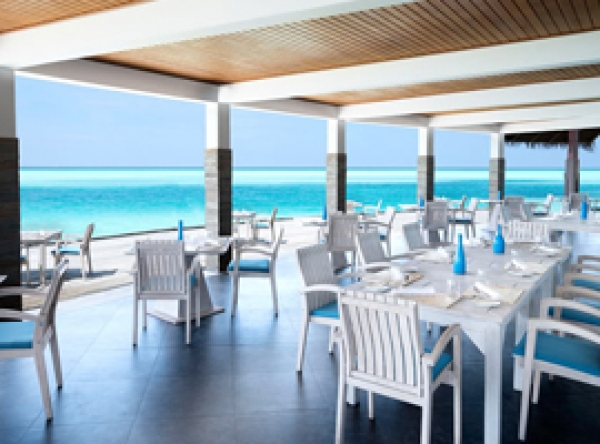 SEA FIRE SALT
Savour freshly caught Maldivian favourites such as reef fish, lobster and prawns, and prime-aged imported cuts from Australia. Have your dish flame-grilled, tandoori-style, wok-sautéed, or cooked to perfection in a wood-fired oven.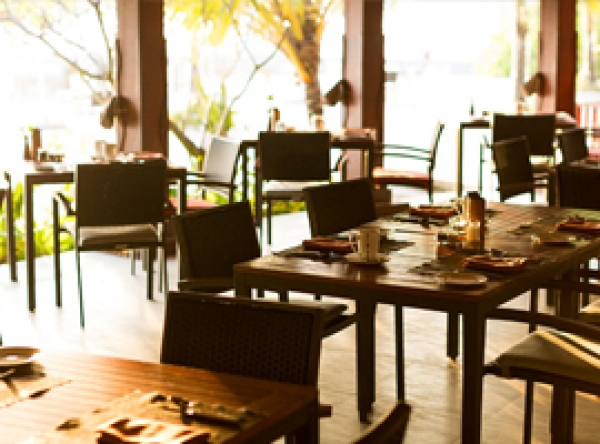 FUSHI CAFÉ
Choose from a lavish buffet of international favourites with live cooking stations, and an array of tropical fruits and juices. By night, savour an extensive buffet with changing themes – Indian Ocean, Japanese, Chinese, Italian – for a culinary experience that's always fresh.
SUNSET CRUISE
Drift across the Indian Ocean in the perfect end to yet another day in paradise. The pinnacle of romance, sailing into the sunset aboard a dhoni is the quintessential Maldivian experience. Relax on the deck, kissed by the tropical breeze, enjoying Champagne and canapés and gazing at the endless ocean alongside someone special. This moment is one to remember forever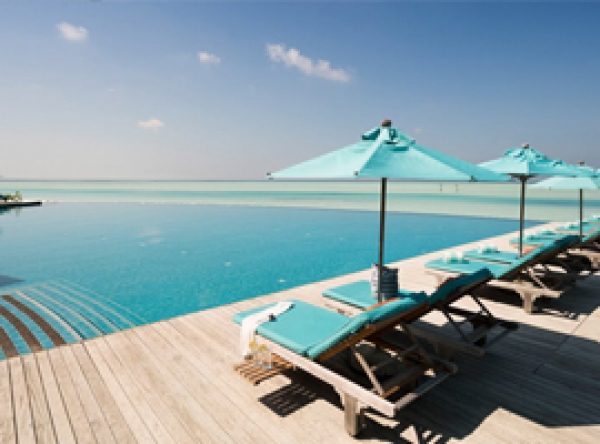 INFINITY POOL
Dive into a brilliant blue. Our infinity-edge beachfront swimming pool is the perfect spot to cool off. The blue tiles mirror the gorgeous shades of the lagoon just steps away. Lie back on a sun lounger. Refresh with a cold drink. And float blissfully through the day.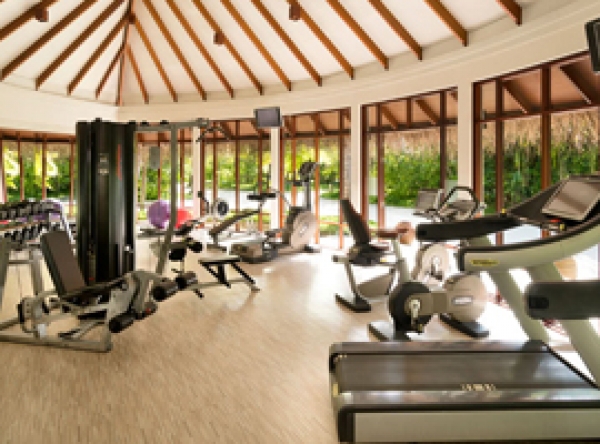 FITNESS CENTRE
Step into the air-conditioned comfort of our fitness centre, and rejuvenate your body on your choice of equipment. Exercise alone or with a personal trainer. Floor-to-ceiling windows provide an inspiring view as you run, step or lift in an invigorating work-out session.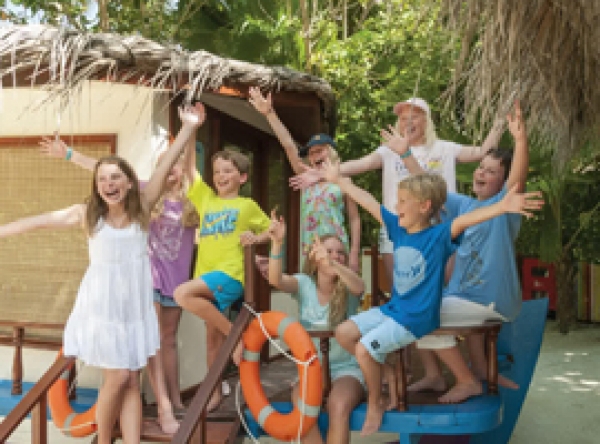 BABYSITTING
Our babysitting service allows parents to enjoy precious alone time in between your many family-friendly experiences. Our professional, experienced babysitters are trained in first aid and CPR. Babysitting is available for children 3 months and above and should be booked 24 hours in advance.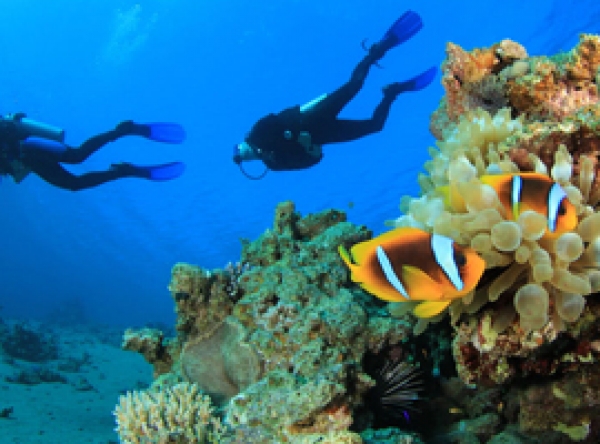 SCUBA DIVING
In the Maldives, you'll find some of the most beautiful sights are below the surface. Admire stunning sea fans, colourful coral, schools of fusiliers, sea turtles, and even the occasional reef shark or spotted eagle ray.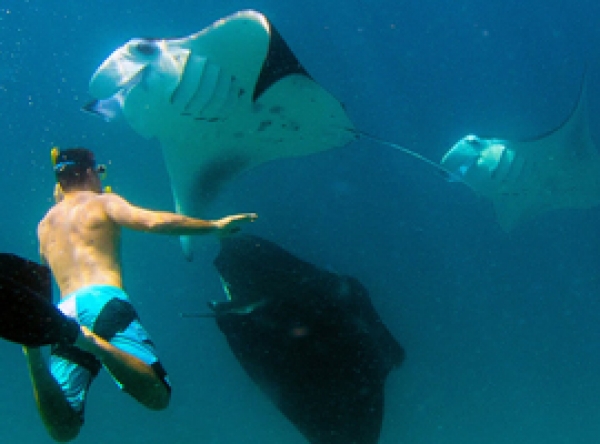 MANTA SNORKELLING
From August to December, seize the opportunity to snorkel with the majestic gentle giants of the ocean – manta rays. Watch the graceful mantas dance just beneath the surface of the Maldivian waters, putting on a show unlike any other on Earth.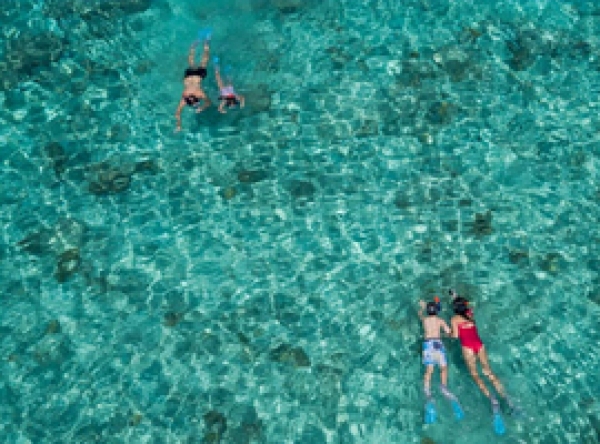 SNORKELLING
Your window on the world below. Explore the turquoise lagoon and the colourful reef life surrounding Anantara Dhigu. Snorkelling offers you an easy way to get acquainted with some of the most celebrated marine life on the planet. One of our most popular resort activities.