GRAND PARK KODHIPPARU MALDIVES
Grand Park Kodhipparu showcases cosmopolitan architecture and contemporary exterior with a Maldivian traditional touch of wood and rattan, innovative rustic appeal and the most inviting ambience, rightfully designed by the award-winning hospitality firm Hirsch Bedner Associates. The Park Hotel Group's first luxury resort invites you to a world of vistas. Get up-close and personal with the underwater species, soak in the sun laying in the white powdery beaches, indulge in the gastronomic cuisines from around the globe, escape into lands of seclusion on a romantic date or simply glare at the shimmering starry nights, Grand Park has a little bit of something for everyone, our little guests will have no time for boredom, we have an array of activities set up for them. At Grand Park Kodhipparu, you will feel the real touch of Maldives.
Location
Discover an island full of entertainment and breathtaking views, within a 20 minute speedboat ride from Velana International Airport, Male, nestled in the North Male Atoll, Grand Park Kodhipparu invites you to celebrate your vacation in Maldives style.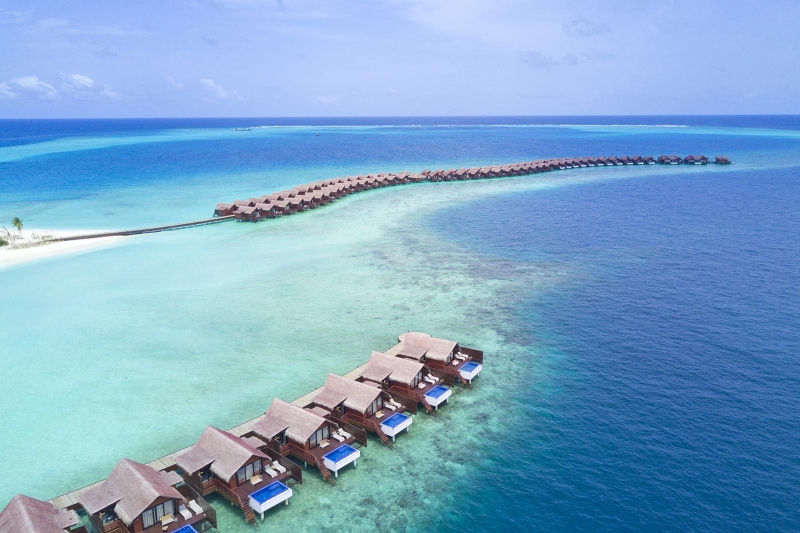 Lagoon Water Villa
These are private overwater villas with direct access to the turquoise lagoon set facing North of the island, just a few steps down and you will be in the fresh waters where you could swim by the ocean creatures. Soak in the sun while lazing on the hammock or get a sun-tan at the sun deck.
VILLA SPECIFICATION
| | |
| --- | --- |
| Villa | Direct Water |
| Over Water | N/A |
| 1 Room | Without a Private Pool |
| Single Villa | 80 sq ft. |
---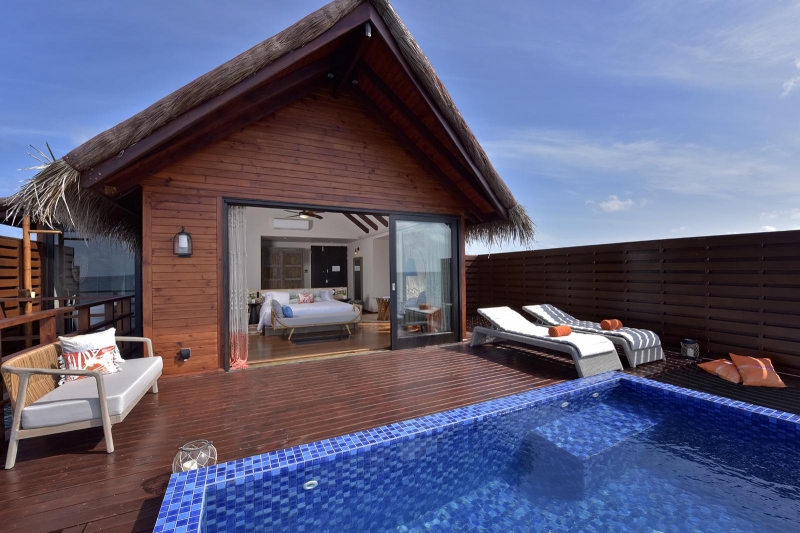 Ocean Water Villa
Wake up to mesmerizing views of the calm blue ocean and the beautiful skies, simply step down a few stairs to get into the water for a relaxing swim. These villas feature expansive bathroom and both indoor and outdoor shower.
VILLA SPECIFICATION
| | |
| --- | --- |
| Villa | Direct Water |
| Over Water | N/A |
| 1 Room | Without a Private Pool |
| Single Villa | 80 sq ft. |
---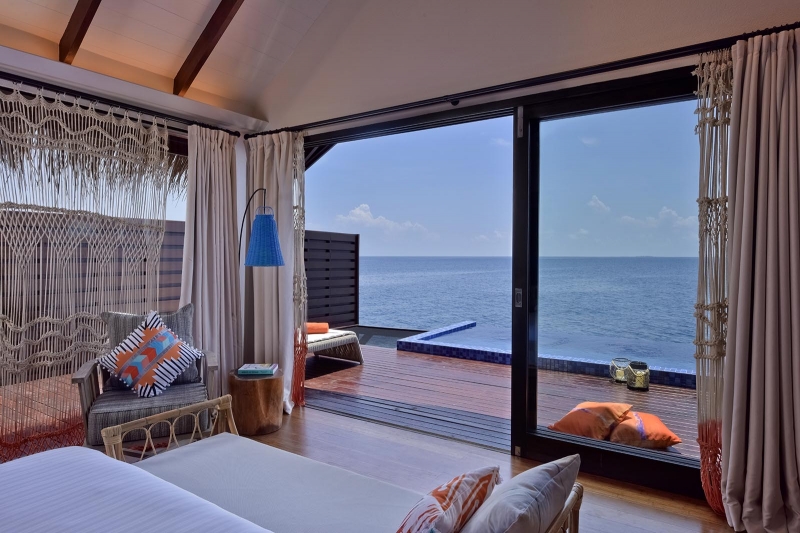 Beach Pool Villa
Nestled amid the lush greens these comfortable villas come with a plunge pool facing the horizon, spend pool-time overlooking the beautiful blue ocean which is just a few feet away. Take an evening bare-foot walk, sooth your soul and indulge in the goodness of nature.
VILLA SPECIFICATION
| | |
| --- | --- |
| Villa | Direct Water |
| Beach | N/A |
| 1 Room | With a Private Jacuzzi |
| Single Villa | 78 sq ft. |
---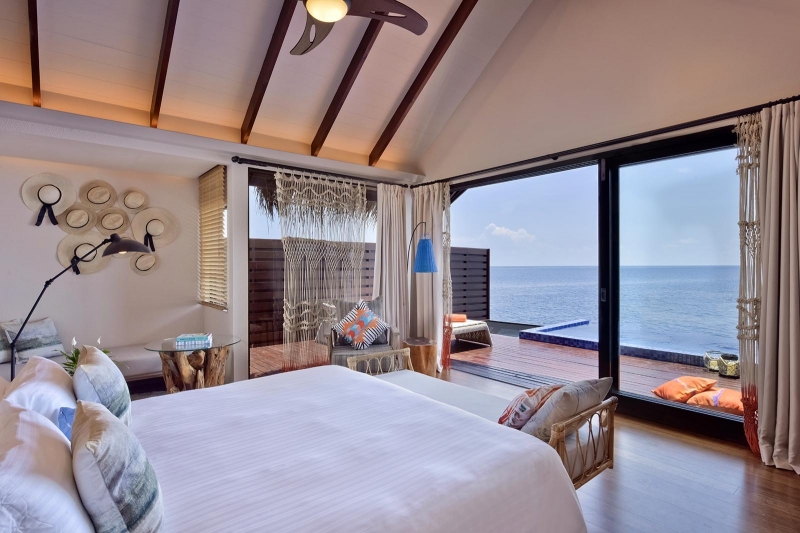 Pool Water Villa
You will experience the real Maldives touch here, calm and serene, blazing colors, woven textures, wooden and mirror interiors, simply amazing and full of modern amenities, these villas are a perfect bliss.
VILLA SPECIFICATION
---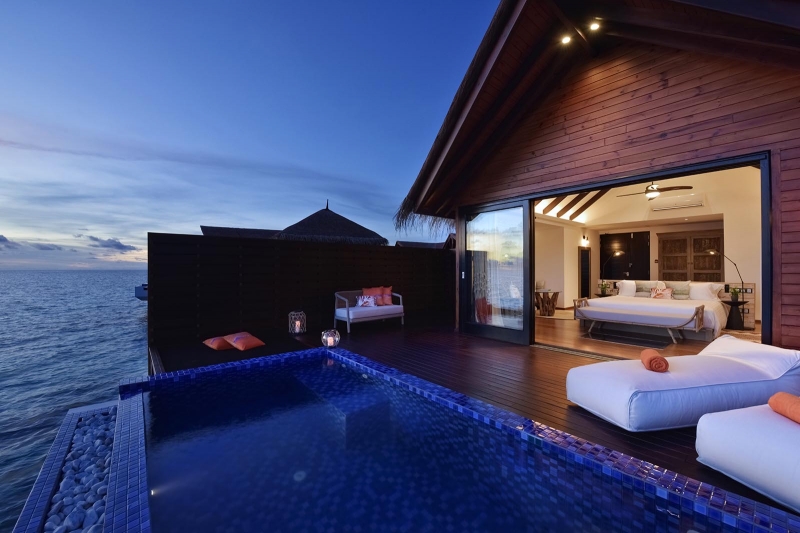 Reef Pool Water Villa
There's nothing called too much water, at our Reef Pool overwater villas, you will have ample activities to do in water. Relax and unwind in the sun-deck overlooking the ocean, enjoy the bright yellow sun and soak in its goodness. Once tired, relax in the comfortable, luxury villa and make the best out of your vacation.
VILLA SPECIFICATION
---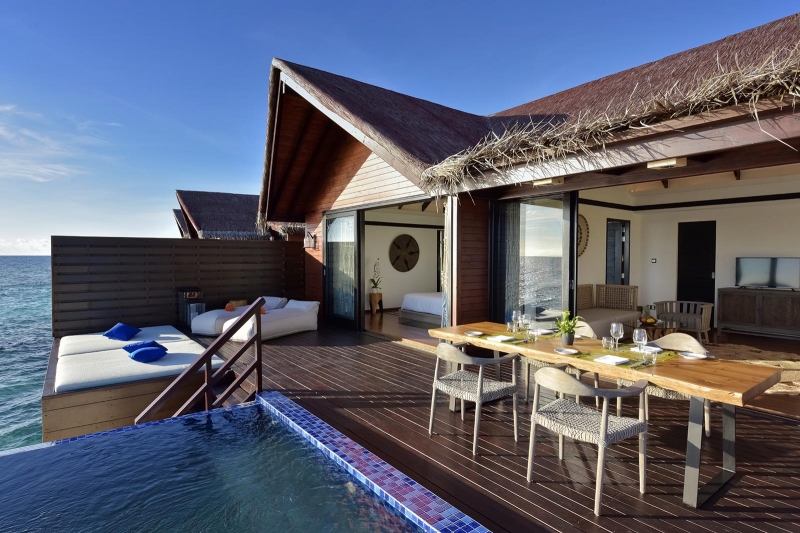 Grand Residence
Keeping in mind families, our luxurious two-bedroom grand residence affords ample space and a private pool, so you could spend quality time with your family. The villa features a glass-floor which gives you spectacular views of the ocean life, glare at the variety of species in different colors and sizes and get engrossed in the beauty of mother nature. As promised, these sanctuaries offer you the best views of Maldives Islands.
VILLA SPECIFICATION
| | |
| --- | --- |
| Suite | Direct Water |
| Over the water | N/A |
| 1 Room | With a Private Pool |
| Single Villa | 210 sq ft. |
---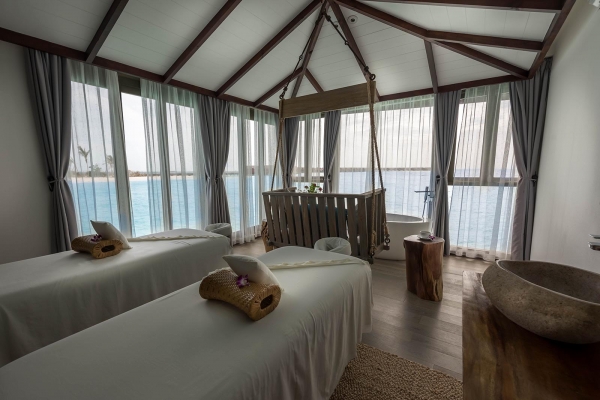 Spa & Wellness
Our priority is to ensure that you leave the spa refreshed and stress-free. We look foraward to deliver the best pampering by selecting the signature spa treatments influenced by Asian spa techniques of Balinese and Ayurvedic so that our guests achieve inner peace and could leave the spa, with a much refreshed soul and mind. The Spa at Grand Part Kodhipparu partners with Phytomer so that our guests could benefit from the best of products. Phytomer offers an extensive range of body and skincare products established and made in France and is one of the world renowned brands.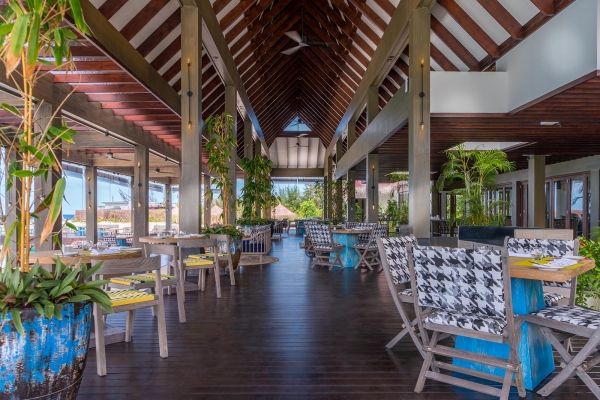 The Edge
Contemporary interiors and modern vibes, sophisticated designs inspired by the local Maldives with pine wood floors, roof and ceiling and tasteful furnishings and decorative items, crafted by the local craftemen, the open dining space at the Edge offers you exquisite dining experience with a large spread of international cuisine featuring live cooking stations and menus. Savor freshly cooked meals upon request.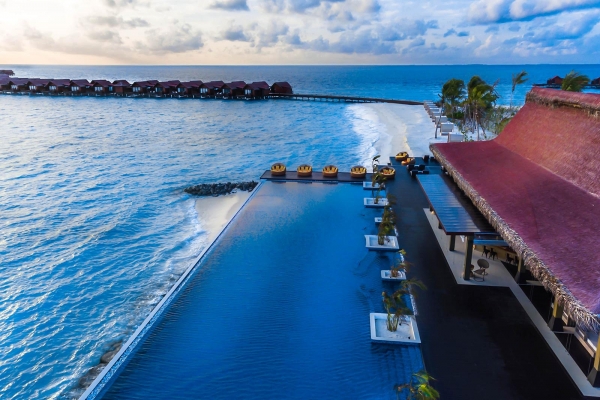 Breeze Poolside Dining & Bar
For all your snacks and light bites, head over to the Poolside Dining Bar set adjacent to the resort's infinity pool bestowing the most reposeful and panoramic vistas of the tranquil blue ocean. Get your handful in Asian and Mediterranean classics and all-time favorites; burgers, pastas and salads. Refuel while you watch the sunset with the best spirits and wines or refreshing cocktails at the Breeze which undoubtedly is on the top lists of the Bars in the island.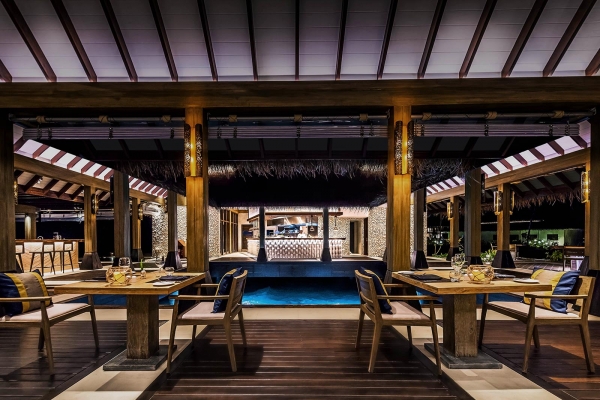 Firedoor
The award-winning specialty restaurant is one on the top listed restaurants in the Maldives Island. Secluded from other resort facilities, the Firedoor restaurant is the most ideal spot for celebrations or specials meals. The show kitchen presents a hive of activities featuring a grand Josper grill to awaken your tastebuds, at the centre of the restaurant, you could spot beaming fish lazily swimming in the lagoon, watch these divine underwater beauties and enjoy your palateful either indoor or al fresco.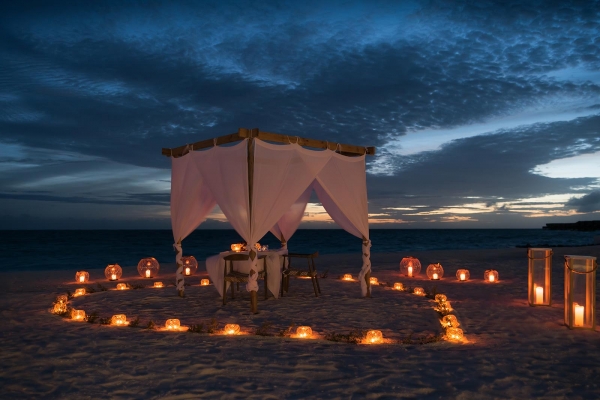 Private Dining
Whether you want to enjoy a sunrise breakfast by the beach, floating dining experience, sandbank dining experience or a Pergola dinner, bbq dinner at the beach or even dinner under the stars, our talented chef team would make this wish of yours come true. We at Grand Park create moments to cherish and help our guests savor every moment. You simply have to inform and book prior.
Private Dining Experiences
Be it a breakfast on the sandbank or an afternoon picnic on a secluded land, Maldives is blessed with many exotic landscapes and breathtaking locations where you could enjoy a private/special meal with your loved one. Our culinary experts are ready to create gourmet luscious meals and serve you with an exciting meal to rememeber in a very unique setting. Simply request or book 24 hours in advance.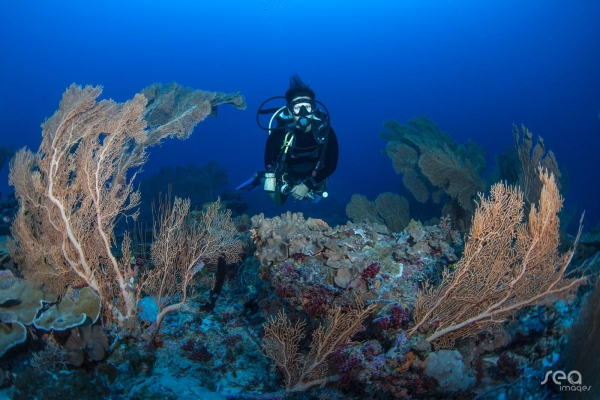 Diving
Hosting a myriad of marine species, home to renowned dive sites and shark points, Maldives is the number one destination to experience under water world. Our dive centre is fully equipped and includes a team of PADI certified professionals who will help you discover and explore the under water life with some of our signature diving experiences.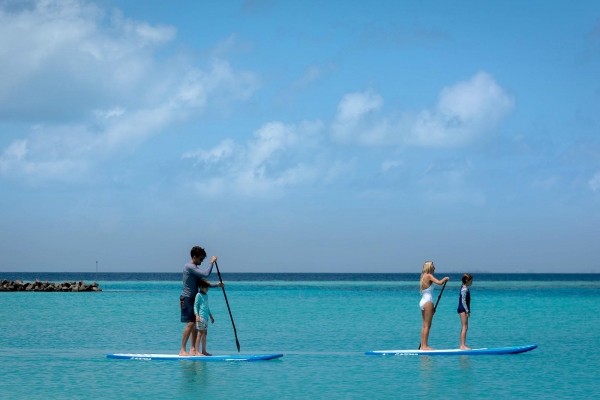 Water Sports
The sun, sea sand lovers will feel the days not sufficient for them to complete the many watersports that we have on offer. The list is long; jet skiing, kayaking, windsurfing,catamaran sailing, parasailing, snorkeling, water skiing, wakeboarding, kneeboarding, fun tubes riding, kite surfing, wave surfing, stand up paddling, and more. Start from day 1 and enjoy till the day you leave, the sea is all yours.
Excursions
Like I mentioned before, there's lots and lots to do when in Maldives, apart from watersports and marine life there's the beauty of nature and culture which are also very interesting to explore. Get a dhoni (traditional boat) to get you to local places and experience the real Maldives; the hustle bustle of the city, romantic sunsets, the dolphins and more.
Daily Recreation Programme at Beach Club
If you want to have a day off from all the adventure and enjoy a peaceful yet entertaining day, join the Beach Club which offers daily recreational programme, a gathering lounge by the beach, more of an indoor entertainment.
Marine & Sustainability Program
to educate yourself on the resort's coral restoration programme and marine life and its protection methods from the resort's Sustainability Manager and Resident Marine Biologist, Sarocha Pakeenuya.